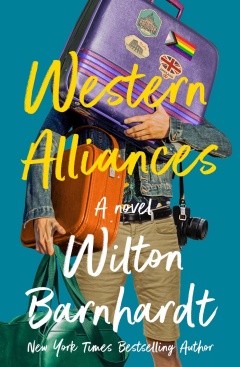 Lacerating but affectionate, as exuberant as it is shrewd, Lookaway, Lookaway is a Southern novel so sure-footed the only real question for Barnhardt is, "What took you so long?"...The book is all about its characters, each of them delightfully flawed...Southern literature is full of humor but strangely short on satire. Barnhardt gleefully leaps into this gap like a man with a very long to-do list...Lookaway, Lookaway is that rare thing: an excellent long novel that's not long enough.
— Malcolm Jones, The NEW YORK TIMES BOOK REVIEW
Hilarious, expertly drawn...Scathing yet touching, this is a delicious saga of Old South meets New, a story of America lurching toward the future.
— PEOPLE Magazine
Barnhardt's fourth novel is a revelation: witty, savage and bighearted all at once, it is the Southern novel for the 21st century.
— KIRKUS (Starred Review)
Lookaway, Lookaway is a wild romp through the South, and therefore the history of our nation, written by an absolute ringmaster of fiction. Wilton Barnhardt is back baby, and he's coming at you with everything he's got. Enjoy! Enjoy! Enjoy!
- Alice Sebold
Wilton Barnhardt's Lookaway, Lookaway is our best 21st Century update so far of Anthony Trollope's The Way We Live Now. This literary romp is a new South vision with a ferocious vengeance, a heady stew of debutantes, Internet dating, Confederate War reenactors, real estate scandals, and GARDEN & GUN mores.
— Randall Kenan
Move over, Tom Wolfe! Writing with brilliance and brio, Barnhardt has penned a hilarious satire which often has surprising depth and hits way too close to the truth.
- Lee Smith
Wilton Barnhardt has written the big Southern novel I've been wanting to read all my life. I can't think of a book that better expresses the complexity of exactly where our Southern culture is right now. His insights into his characters – both male and female – are rich and genuinely hilarious, expressed with a dangerous level of humor and pain.
— Mark Childress
A fresh and innovative take on the traditional family saga...the new Barnhardt goes down smooth and delivers with a kick.
- Karen Joy Fowler