I was born in Winston-Salem, North Carolina, and was youthfully, loudly resolved to travel the world and never darken the city limits or the backwater that was North Carolina again. I went to school at Michigan State University (satisfying now and forever my "snow fix"), then I moved to New York City to make my fortune (1982-1985), which I didn't, though I did work–preposterously, after a lifetime of being picked last for every sport played by humans–as a reporter for Sports Illustrated magazine. I was the NASCAR geek back in the '80s when no one cared up north about NASCAR. Then, equally unlikely, I went to graduate school at Oxford University (1985-1989) to get something called an M.Phil, a master's degree which Oxford eliminated soon after I got one. I also lingered two more years to work on a never-completed doctorate:  turn-of-the-century travel writings of Henry James in his late manner.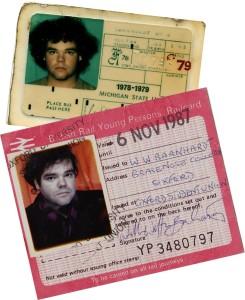 This was a stall until my first novel (Emma Who Saved My Life) found a publisher.  Which it did, at St. Martin's Press in 1989. Gluttons for financial punishment, SMP has published the next three: Gospel (1993), Show World (1998) and Lookaway, Lookaway (2013).  Soon, I intend to unleash a tsunami of short stories upon the world, but two have already been collected in anthologies: "Mrs. Dimbleby" in The Story Behind the Story (Norton) and "Stoma" in Long Story Short (UNC Press).
Because I travel a lot for all my books doing "research," my advances tend to deplete in a few weeks.  Fortunately writing programs have been kind enough to hire me to hold forth as a visiting MFA faculty.  I have taught at the University of California, Irvine (1996-1997), the University of Alabama in Tuscaloosa (1999), was a Visiting Writer with all those scarily smart kids out at Caltech (2000-2002), and have enjoyed a long association with the low-residency MFA at Warren Wilson College since 1997, curiously a quarter-mile up the road from where I spent summers on my grandparents' farm.
In the intervening decades, North Carolina got all progressive and tolerant (despite a RUINOUS recent political backsliding–temporary, we hope!) and I crawled on back, grateful. Four generations of Barnhardts have either taught or matriculated at NC State University and they haven't pulled up the ladder yet. State's MFA program (which I directed in its fledgling years) is new, intimate, and wonderful, principally because of my conspirators and fiction colleagues John Kessel and Jill McCorkle, and our poets Dorianne Laux and John Balaban.  Check us out:
http://english.chass.ncsu.edu/graduate/mfa/mfaprogram.php