I am a North Carolinian, born and bred in Winston-Salem, with frequent family visits to Charlotte and Kannapolis, and longer summer visits to Swannanoa (outside of Asheville) where my mother was from. Let's get down to the essential N.C. research…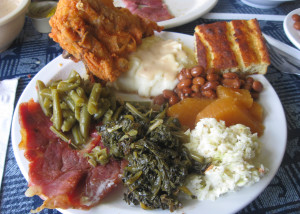 When fried chicken AND country ham are at the ready, that's a good place to be (good collards and rutabaga is a definite bonus). But we're here to talk about my exhaustive research into N.C. Barbecue, the aroma of which wholly informs Lookaway, Lookaway. On the coastal plain, "Down East," barbecue is cooked "whole-hog," where the whole pig roasts in a pit for a half a day (or more) with the marrows and organs and constant basting of the marinade influencing the taste.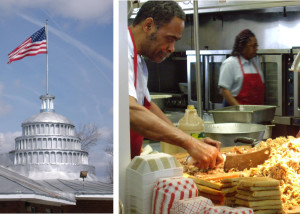 The meat (like you see at Ayden, NC's Skylight Inn) is brought out and then chopped to a mince by cleavers. Some places (like Ralph's in Weldon, NC), pull the pork out for you and put it in a pan, waiting for you to pile it on your plate and douse it in the tomato-free vinegar-based sauce of the east. (That stuff in the little bowl is Brunswick Stew and I'm not going to get into an argument with my Virginian or Georgian brethren about which colonial Brunswick it's named for. Our Brunswick Town petered out around 1770 and became a ghost town, otherwise we could make a case for inventing it every bit as dubious as our neighbors to the north and south…)
The best pork you can get is when they let you pick it out yourself with tongs, with the whole cooked hog before you on a warm grill, as they do at Bill Ellis Barbecue in Wilson, NC. It is velvety, rich, melt-in-the-mouth… and nothing else needs to accompany it on the plate (except the official BBQ dessert in these parts, banana pudding).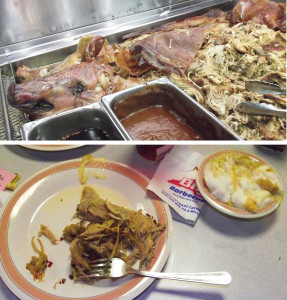 Now in my native Piedmont, they slow cook just the shoulder, over hickory woodchips. The Vatican City of the Piedmont "Lexington" style is, of course, Lexington Barbecue in Lexington where they seem to consume a diet that is 100% barbecue and no one blames them.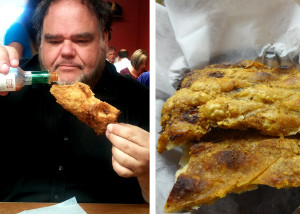 That is crackling, the original pork rind, just crying out for Tabasco or Texas Pete. One finds, I report sadly, a falling off, a slackening in the making the hot-sweet red slaw and, more and more, Piedmont places are giving us the diabetes-inducing pickle-sweet slaw or the store-bought mayonnaisey cole slaw. I forgive Reidsville's Short Sugar's because the barbecue itself is out of this world…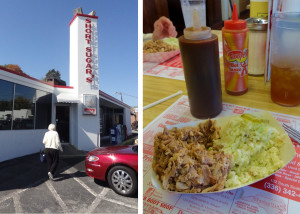 You know, Annie in Lookaway, Lookaway wouldn't be so fat (almost as rotund as her author, I understand) if not for the onslaught of Southern desserts, like Short Sugar's hot strawberry cobbler with rich vanilla ice cream… or the pie counter at Allen Brother's Barbecue (Hillsborough), featuring toasted coconut chess…